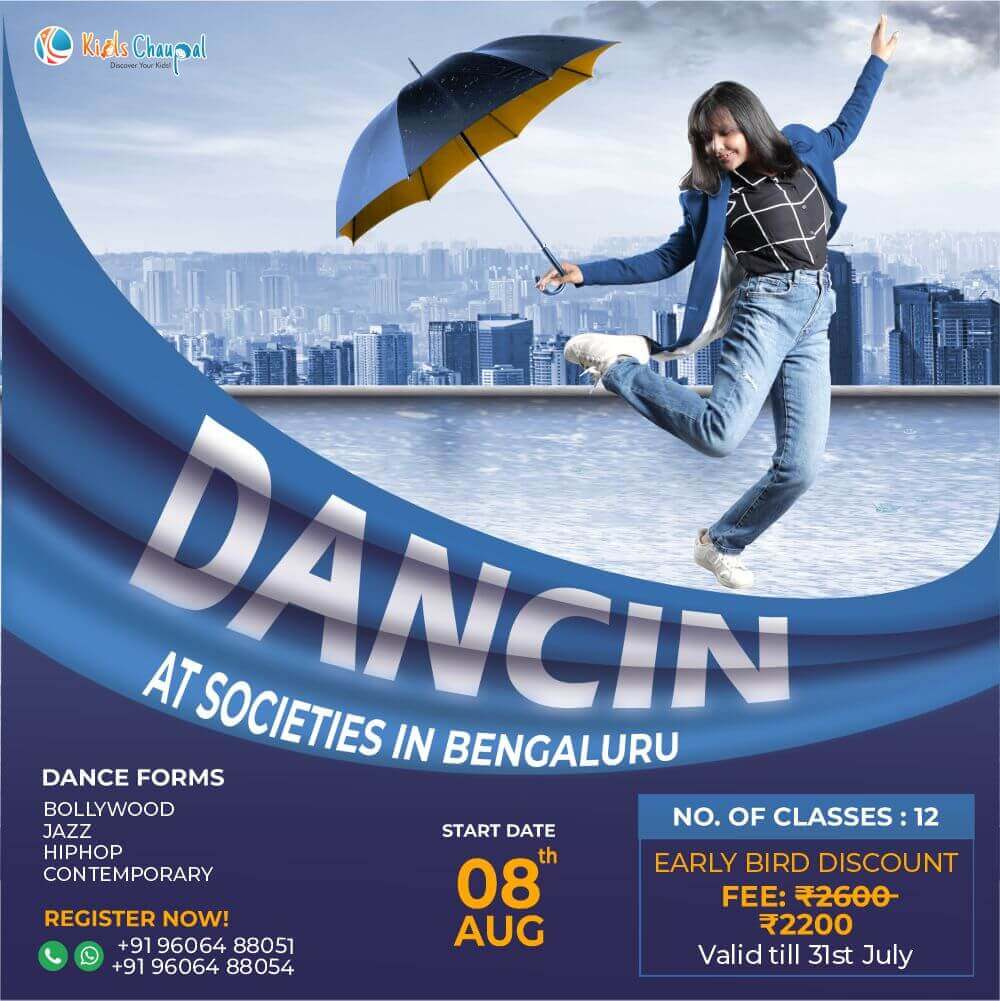 We believe a combined academic and performing arts curriculum, located at respective societies, will benefit young aspiring dancers to foster a life-long love of learning.
This program is designed to inspire children between 4 to 18 Years. A comprehensive curriculum rooted dance program for young dancers with modern and focused training for dedicated students. Our dancers study various dance styles, fundamentals, foundations and techniques.
Dance is one such activity that builds life skills, resilience and determination. It's a fun way to stay active whilst increasing your strength, stamina and flexibility. The holistic learning will nurture the child's social, mental and emotional development and enhance cognitive development.
Our mentors are passionate and dedicated to help and monitor everyone's individual strength towards structuring their growth progress.
An in-house presentation / Activity is held as the culmination for the program
Program Contents: Fundamentals of dance / Foundations / Techniques / Musical exercises / Team work & Play / Choreography
Dance Styles: Jazz / Bollywood / Hip Hop / Contemporary
Register Now!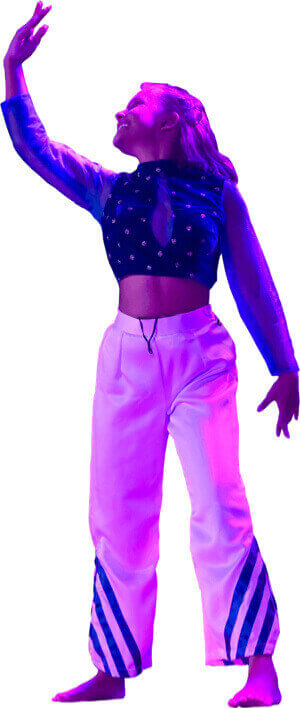 Register Now! Limited seats available!
The winter showcase batch will start from January 09, 2023 onwards. The registration fee for Dancin batch is ₹ for 15 classes.
About Aarambh'22
AARAMBH'22 is about giving wings to the dreams of aspiring dancers out there and helping them take their first step towards a successful dance career.
Meet our Dance Mentors - The Best League in Town!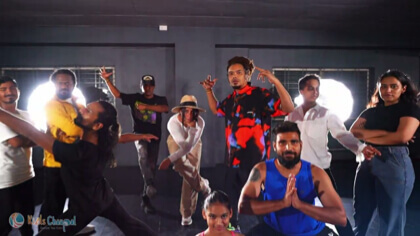 Chief Mentor
Sritheren Pillai
An ace choreographer and artist, Sritheren is the founder and a senior Street Dance instructor of Hiphop India. A popular face in the Dance, Art & Film community, Sritheren has been a mentor and an educator to over 15,000 students and has collaborated & worked with many international artists including Aamir Khan, Akshay Kumar, Punith Rajkumar, Venkatesh, Dulquar Salman, Sean Paul, Flo Rida, Akcent Band among many others.
He has worked as a dance director & choreographer in 3 idiots, Ustad hotel, Huduga Hudugi, Dev s/o Mudde Gowda among many others and in more than 50 TV Ads and music videos. He has also hosted several shows including India's biggest Street Dance event with over 5000 audience.
Principal Faculty
Jeeva Rekha aka Jeev
Jeev is one of the first generation of female Street Style Dancers in India with over 12 years of professional experience. Having specialized in the art of Popping, Hip-Hop, House & StreetStyle Choreography, she has been instrumental in growth of many female dancers in the field.
Known to be the first female street dancer and teacher in South India, she specializes in a style called popping and has travelled and represented in several street dance battles all over India, Choreographed for international singers like Jay Sean, Flo Rida, Raghav.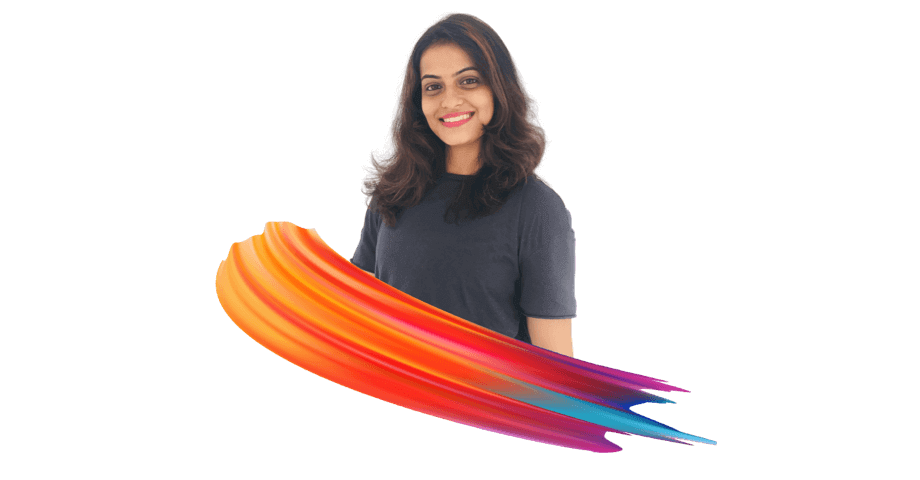 Chief Dance Instructor
Snigdha Banerjee
Teacher by profession, dancer by passion. I've been teaching for the past 2 decades to students of all age groups from 2 yrs to senior citizens and even to people with special needs. Have performed on various platforms and shows as a chorus dancer like IIFA, Filmfare, Zee Cine Awards, Closing ceremony of Common wealth games etc. Dance forms taught - Bollywood, Indo -Contemporary and Hip Hop.
Senior Dance Instructor
Vikram G.P.
Over 16 yrs of experience in teaching and the performing arts. He has trained over 10000 kids across India and performed in prestigious shows like Commonwealth Games Australia / India, iifa, Filmfare, DID, Femina Miss India and many other shows across globe. Designed, developed, and implemented the dance and movement program for students, offering participants opportunities to develop an interest and mastery of the art form, He has taught classes and choreographed shows in, Bangalore, Ahmedabad, Chennai, Kolkata, Chandigarh, Hyderabad and many more cities in India. Vikram has performed with Amitabh Bachchan, Salman, Shahrukh, Hrithik and Shiamak Davar, he was part of Shiamak davar dance company for over 16 years.
Hip Hop Head
Velu Kumar
Velu Kumar Selvarajan is a Choreographer, Creative Director and Dance Coach at HipHop India Dance co. He is a 1st grade instructor and a lead member of GRAFFITTI CREW, South India's first formed Hip-Hop Dance Crew, and has been actively involved in the Underground Dance Scene.
Represented India in an international Battle called Radikal force Jam in Singapore in 2018 and made it to top 8, First Indian to judge an international competition alongside other artists at Redbull BC One World Finals in Hiphop category in 2019. Won the WOD (WORLD OF DANCE) championship in Mumbai Qualifier in 2017.
Krump Head
Badsha AKA Half God
With over 8 years of teaching experience, Ibrahim has taught at the biggest dance camps in India such as PDSP by Big Dance Centre (Delhi, Mumbai), Urban Dance Week(Pune) and also have taught various dance workshops in Bhutan, and many cities Pan India. Has also judged various National and international dance competitions. Is recognized by the Krump communities of USA, France, Germany, Africa, SA, Aussie and several other countries. Two times Indian Krump Champion. First ever Indian Krump dancer to have taught a Krump Foundation dance Course for a worldwide online dance education portal.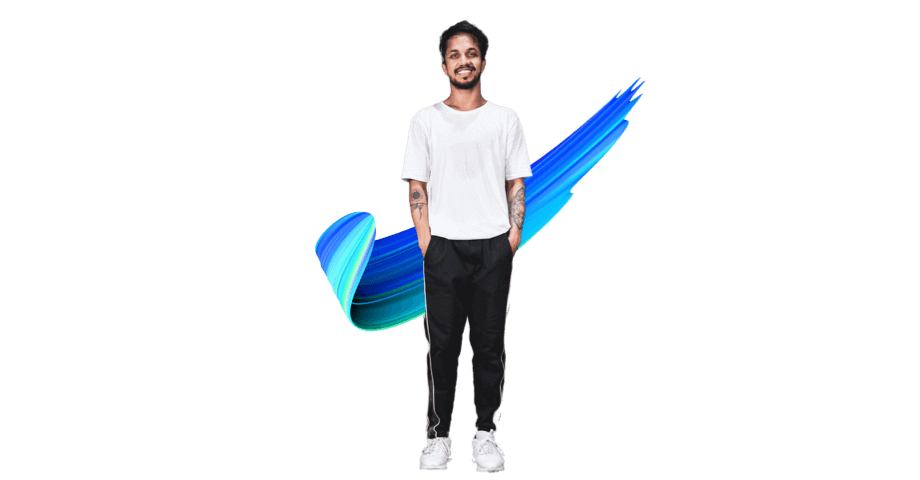 Senior Dance Instructor
Junaid Sheriff
Junaid has over 15 years of dance experience and has been teaching for the past 10 years across India. He has choreographed a music album for "Argenil Feat Neharika". He was a part of "Desi Hoppers Crew" which won 1st place at World of Dance. He has also featured in  reality shows such as "Bindass Naach" and "Dancing Stars - Season 2". He has been a part of "Nritya Shakti tour- Bangalore" as a faculty member and has been an Curriculum Designer in Dance for various academies. His Training has been from "Attakkalari Center for Movement Arts", from "Hip Hop India" and from some of the best national and international teachers.
Senior Dance Instructor
Sakshi Talwar
With the aim of continuous learning and spreading the joy of dance while teaching choreographies to all age groups, Sakshi has been working in the dance industry for the past eight years. She has performed globally in many Bollywood award shows including the Indian International Film Awards (IIFA), Times Of India Film Awards (TOIFA), Indian Premier League (IPL), Zee Cine Awards, Mirchi Awards, and many more. Sakshi has also trained many Bollywood Stars including Jhanvi Kapoor , Jacquline Fernandes, Kiara Adwani ,Darshan Rawal, Malaika Arora.
Dance Instructor
Vinay aka Bboy Wind
Bboy Wind is a Bangalore based dancer and teacher who has been active in the field for the past eight years. Having started Breaking from the age of 14, Vinay was the youngest Bboy kid in the city who along with his crew members "Graffiti Revolution". Selected for UK BBoy championship to represent India and were shortlisted for semi-finals, Represented India in RF jam Singapore, Qualified in India's first Olympic breaking qualifiers
Dance Instructor
Surya aka Bboy Crazy Bright
One of the most popular and explosive Bboy in the country, his uniqueness and creativity is inspiring the younger generations and dancers in the street dance world.
Trained in HipHop, Litefeet, House, Jazz & Popping, A versatile performer and street dance teacher, Over 6 years of teaching experience as a 1st grade level teacher. Winner of more than 40 Titles in Breaking Over the past 4 years, Represented Tamil Nadu at Olympic Qualifier in Mumbai and ranked 4th out of more than 100 plus bboys.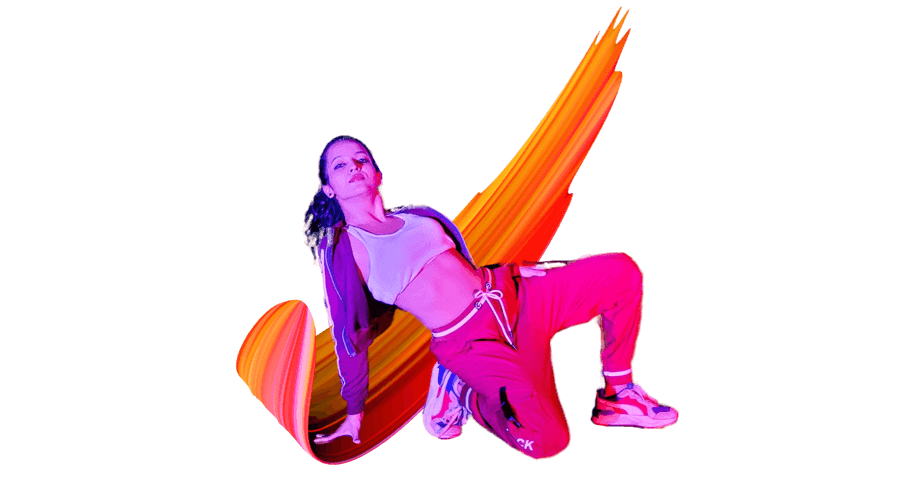 Dance Instructor
Shraddha Manapure
Shraddha is a passionate dancer, teacher and choreographer based in Bangalore. She is also a diploma holder in Movement arts and mixed media. She has done her training in several other dance forms inclusive of Bachata, Kizomba, Waacking, and Contemporary. She has done her Zouk teacher's training course from Brazilian Zouk Dance Council, under this course she has taken training from Kadu Peris and Larissa Thayne. She has been teaching dance to various age groups from last four years. Have done several projects with national and international artist.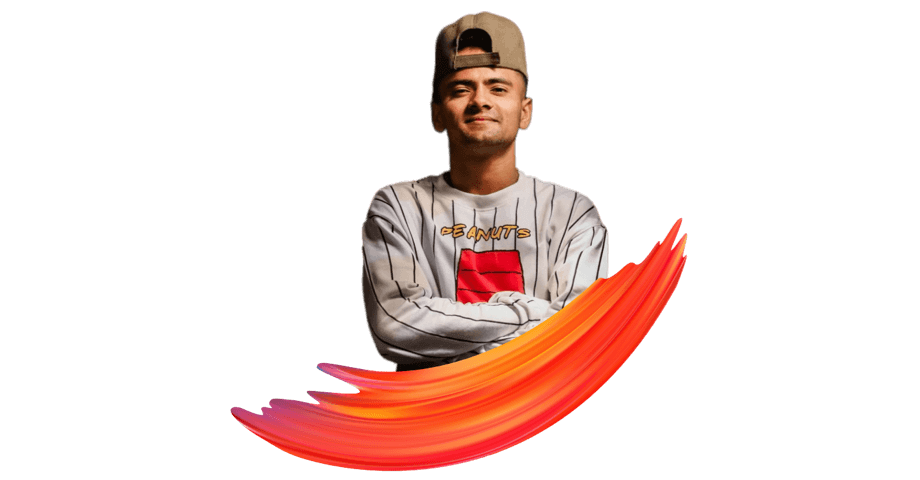 Dance Instructor
Shiva S
Specialized in Street dance styles with 8 years of experience. Worked with Artist , reality show production and Art ed tech institute. Member of Indian Hiphop Dance community. Have Won and Judged several events across the states. (Travelled across states and have taken workshops from international artists) Moreover Dance has always been a part of me, I believe in exploring through movements.
Dance Instructor
Kiran
Kiran, a performing art enthusiast, started dancing at a very young age and got trained in various forms for both performing and competing level. He is currently pursuing professional diploma certification in Street Dance at HIPHOP INDIA DANCE CO and is a junior instructor at HIPHOP INDIA DANCE CO training under Sritheren & Jeeva Rekha (Director of Hiphop India Dance Co), Over 5 years' experience in choreographing for college dance team (group and solo). Won several college dance competitions
Dance Instructor
Vaishishtya
A Vaishishtya started dancing at the tender age of 3. Before she realised, she was participating in all the events and activities related to dance. As she grew up, her mother got her enrolled into a dance school, where her dancing journey started taking strides. Over the years, Dancing has become her comfort place.
Our sponsors
We are backed by the industry experts.
Street Dance
KidsChaupal is proud to bring to you an exclusive Street Dance Program! A first of this kind in India.
Street dance is an informal style of dance that encompasses a range of social dance styles whose culture and lifestyle is bringing about a movement in the world. It has its steps and foundations created from a culture that is influenced by social interaction and was developed in public spaces such as streets, dance parties, block parties, parks, competitions and school yards.
Ayaam – Showcase batch - Classes & Fees
Batch Start: 20th October, 2022
No. of classes: 15
Age: 7 to 12 Years & 13 +
Days: Tue, Wed & Thu
Styles Taught: Street Dance
Fees: 3000/- (15 Hrs Training & Stage Performance)
Register Now!
The details for the batch are as follows:
Helps in identifying and creating an individual's unique personality
Builds Natural & Technical rhythm process
Improves balance and flexibility
Improves co-ordination
Helps in development of muscles
Builds self-confidence
Pushes the creative process
Unleashes the Dancer's natural attitude
Highly Competitive
Chance to be a part of the competitions worldwide
Class Structure:
Greeting the class
Five minute full body warm-up (Same warm up for every class is set to a slamming Hip Hop instrumental tracks)
Ten minutes of Drills assigned for foundation & core strengthening.
Fifteen minutes of Vocabs/Steps (2 steps)
Five minute activity
Water Break
Combinations & Choreography
Stretching & strengthening exercises is done in the last five minutes of the class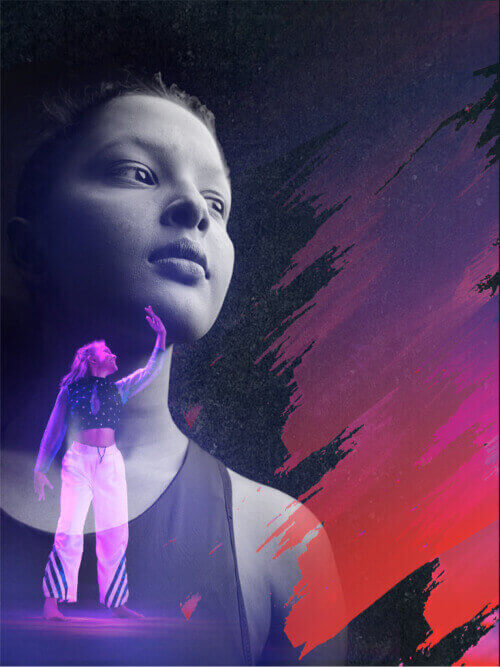 KidsChaupal Performing Art
KidsChaupal is a phygital learning platform dedicated to imparting crucial life skills to prepare our kids for a better tomorrow. We believe that the world is too big to fit into curriculums and an academic syllabus alone doesn't prepare us for life's challenges. We focus on honing skills and nurturing creativity, confidence, emotional intelligence, adaptability, and self-expression among kids - through a series of courses, activities, events, and programmes.
KidsChaupal is dedicated to impart crucial life skills top prepare our kids for a better tomorrow. We believe that the world is too big to fit into curriculums, and hence we focus on skills development and nurturing creativity, confidence, emotional intelligence, adaptability, and self-expression among kids. With Kc's Performing Arts, we bring you a space to embrace the passion for the art of dance and inspire others by providing artistic excellence in varied forms of dance. We aim at providing international quality dance training in various dance forms by the expert faculty all through the year. We believe in making dance available to everyone from ages four to eighteen.
We are around. Catch us at your nearest location!
Download lessons and learn anytime, anywhere with the Kidschaupal app
4th Floor, Building No.1262/1141, 17th Cross
Sector-7, HSR Layout, Bengaluru-560102
E: dancegully@kidschaupal.com
M: +919606488051 / P:0 80 49899434
Give us a call or drop by anytime, we endeavour to answer all enquiries as soon as possible.